Being home from work has caused all sorts of temptations. Internet surfing engulfs a large amount of my time and keeps me busy, but now I want all of these beautiful goodies that I wouldn't have had time to find if I was working. Here's what I'm pining after:
Etsy
BlackCreekEclectible
Vintage Green Flower Necklace
$16.00
(Hint: this would make a fairly inexpensive Christmas gift) :-)
Etsy
Shop: alovebizarre
Vintage Sky Blue 1960's Dolly Mini Dress
$25.00
Modcloth
Soothing Song Heels
$34.99
Modcloth
The Villette Capelet
$89.99
Modcloth
Edgar Allen Bow Dress
$79.99
Modcloth
Dewey Decimal Dress
$88.99
Modcloth
Strawberry Chiffon Dress
$74.99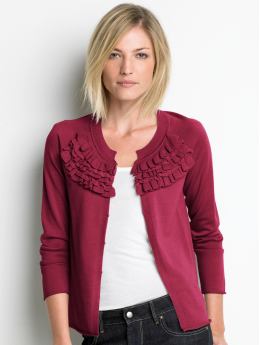 Banana Republic
Petite Ruffle Cardigan
Deep Fuschia
$70.00
Banana Republic
Petite Ruffle Tweed Shift Dress
$142.00
J. Crew
Perfect Pencil Skirt
Bright Blue
$118.00
Ann Taylor Loft
Squareneck Knit Dress
Deep Winter Teal
$69.50
A girl can dream, can't she?